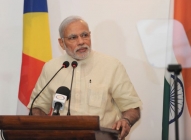 Why is Indian Prime Minister Modi attacking student protesters?
Jan 07, 2020 15:35 pm UTC| Insights & Views Politics
This weekend, news and social media reports circulated videos from India of masked attackers beating up students in the dorms of New Delhis prestigious public university, Jawaharlal Nehru University (JNU). One JNU teacher...
Narendra Modi's victory speech delivers visions of a Hindu nationalist ascetic
May 27, 2019 09:08 am UTC| Insights & Views Politics
In the recently concluded Indian parliamentary elections, the electorate gave a thumping majority to current Prime Minister Narendra Modi of the Hindu right-wing Bharatiya Janata Party (BJP) to lead the nation for another...