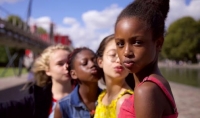 Netflix's 'Cuties' ignites the wrong debate on young girls' sexuality
Sep 24, 2020 06:48 am UTC| Entertainment
The outrage over Cuties, the feature-length debut by Franco-Senegalese filmmaker Mamouna Doucouré, says a lot about how poorly we discuss youth sexuality. The film, originally called Mignonnes in French, is meant as...
Baby, it's cold outside — but it's heating up on social media
Dec 01, 2019 03:16 am UTC| Insights & Views Entertainment
Did People magazines Sexiest Man Alive just take the sexy out of Christmas? John Legend and Kelly Clarkson released their version of Frank Loessers 1949 novelty song, Baby, Its Cold Outside, with updated lyrics that are...