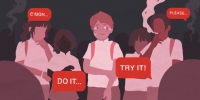 How hard is it to say 'no' to drugs?
May 03, 2019 17:08 pm UTC| Health
I Need to Know is an ongoing series for teens in search of reliable, confidential advice about lifes tricky questions. If youre a teen, send us your questions about sex, drugs, health and relationships and well ask an...