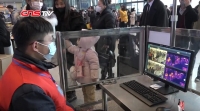 Coronavirus outbreak: WHO's decision to not declare a global public health emergency explained
Jan 28, 2020 08:28 am UTC| Insights & Views Health
The World Health Organizations decision to not declare the novel coronavirus outbreak in China a public health emergency of international concern, or PHEIC, will surprise many. The number of reported cases and deaths is...
Measles: should vaccinations should be compulsory?
Apr 01, 2019 17:04 pm UTC| Insights & Views Health
Following a measles outbreak in Rockland County in New York State, authorities there have declared a state of emergency, with unvaccinated children barred from public spaces, raising important questions about the...