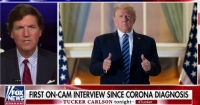 Can Fox News survive without Trump in the White House?
Feb 20, 2021 12:34 pm UTC| Insights & Views Business
Sadly, history has largely forgotten the Rector Thomas Beverley. In 1695, he wrote a book predicting the world would end in 1697. In 1698 he wrote another book, complaining the world had ended but no-one had noticed. If he...
From irreverence to irrelevance: the rise and fall of the bad-tempered tabloids
Apr 01, 2019 17:00 pm UTC| Insights & Views Business
Kick this mob out shouted the front page of The Daily Telegraph on the day that Tony Abbott triumphed in the 2013 federal election. Restraint and modesty have never been the hallmarks of tabloid newspapers. Sometimes they...