Like 'shooting water': why the Hong Kong government must accept that compromise is the only way forward
Aug 27, 2019 01:30 am UTC| Insights & Views Politics
The Hong Kong protest movement is not deescalating nor will it. Having battled for 12 weeks, this multi-million-person movement has lasted much longer than the unsuccessful 79-day Umbrella protests in 2014. This is...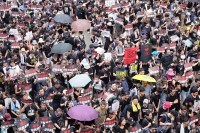 The Hong Kong protesters have turned militant and more strategic – and this unnerves Beijing
Aug 02, 2019 13:00 pm UTC| Insights & Views Politics
The past few weeks has seen a drastic escalation in violence on the streets of Hong Kong. On Tuesday night, a police officer aimed a shotgun at protesters who had gathered outside a police station, while a car launched...