Those who were lucky enough to get a Nintendo Switch console before it ran out in stores since stay-at-home policies were enforced have several games to look forward to this month. Another Mario game is arriving in the console system in July called "Paper Mario: The Origami King," but that is not the only recognizable titles launching on Switch in the coming weeks.
'Paper Mario: The Origami King": Mario befriends an origami character and fights its evil brother
"Paper Mario: The Origami King" is officially the sixth title launching for the series, exclusively on Nintendo Switch, that keeps some of its classic gameplay designs and features. The playable characters such as Mario and his companions will all appear as two-dimensional paper characters while everything else in their surroundings is in 3D.
One of the unique features of "Paper Mario: The Origami King" is that other NPCs, mostly Mario's enemies, are also technically 3D illustrations in the form of origami, hence, the game's title. The plot revolves around the main antagonist King Olly, who has turned Princess Peach into an origami while displacing her castle into a far-off mountain.
However, not all origami characters are bad in "Paper Mario: The Origami King." One of Mario's allies is King Olly's sister, Olivia, who is the yellow origami character seen in the trailers. The game will be released on Nintendo Switch on July 17, but it can now be pre-purchased for $59.99.
Will 'Crysis Remastered' still be released in July?
The release of "Crysis Remastered" on Nintendo Switch marks the IP's debut on the console. Nintendo's official website, as of this writing, still indicates the game will be released on July 23 (see photo below). This, however, could change after developer Crytek faced some backlash recently following a leaked gameplay video.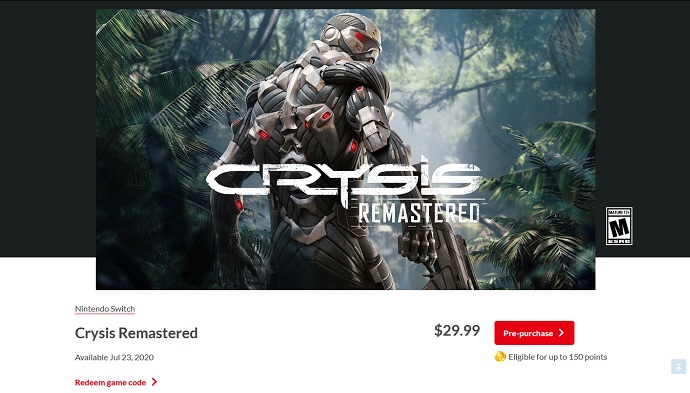 Screenshot from Nintendo.com
Many fans argued that the quality of the visuals and gameplay shown in the leak do not meet their expectations from a "remastered" title. Crytek addressed the issue announcing the delay and added, "This extra time until release will allow us to get 'Crysis Remastered' up to the PC and console-breaking standard you've come to expect from 'Crysis' games."
In the same statement, Crytek confirmed it is delaying the launch date on "all platforms." Pre-orders have also been delayed except on Nintendo Switch "because they already started." A new release date for "Crysis Remastered" has yet to be announced while the official trailer premiere was also pushed by "a few weeks."