Netflix is testing a new feature that could save people's smartphone batteries. Subscribers of the streaming giant using Android devices can now check out the new in-app sleep timer.
Netflix tests sleep timer on Android devices
Since the rise of media content streaming, many people have become accustomed to binging their favorite TV shows at night as the last thing they do before they sleep. However, unlike with the Netflix app for smart TVs, the mobile version does not automatically present a prompt that asks the viewer if they want to continue watching after streaming three episodes non-stop.
Some may have experienced sleeping through while the app continues to play episodes and waking up with a low battery. With the new in-app feature Netflix is testing, this should not be a problem anymore.
Netflix has started testing the in-app sleep timer that all subscribers can try now. A "Timer" button is placed on the upper right corner of the screen when subscribers play content in full screen. Pressing that will lead to the timer duration options (see below).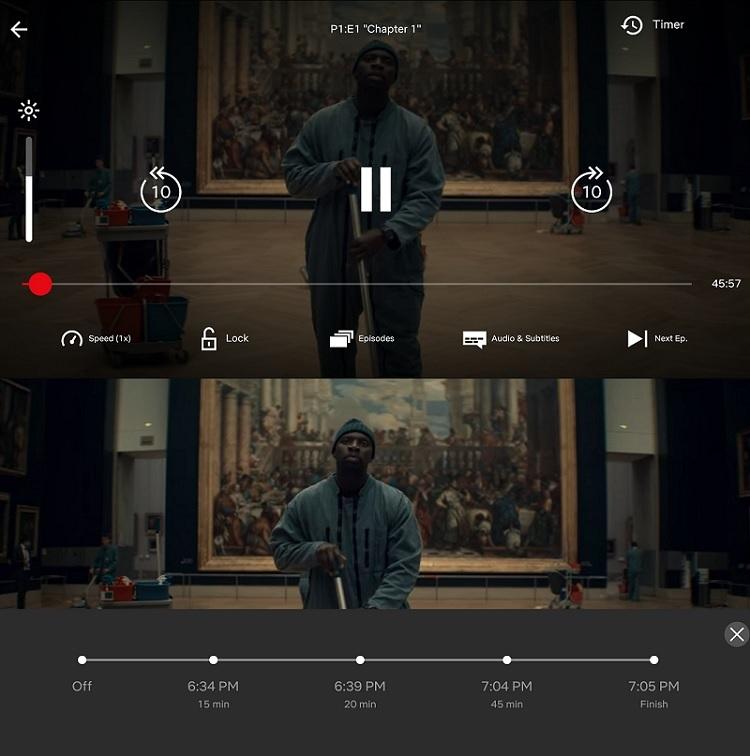 Screenshot from Netflix app on Android
Upon checking, the in-app sleep timer only has three fixed timer durations, and there is no way to input a custom time yet. Netflix users can choose to shut the app after 15, 20, or 45 minutes. There are also options to close the app once the content playing is finished as well as the option to turn off the timer. Since the feature is still in the testing phase, there is a chance that the final version of the sleep timer would like different.
Note, however, that it is currently exclusive to Android devices. It is unclear if the streaming giant is planning to extend testing this feature on other platforms like iOS and iPadOS. "We're always looking for new ways to improve the Netflix mobile experience," Netflix told Gadgets 360. "This test is the latest example."
Netflix launched new features to open 2021
Netflix opened the year by launching a couple of essential features on different versions of their app. Last month, the company confirmed it is rolling out a new button that works like a shuffle play for subscribers having a hard time choosing what show or movie to watch. This will be available on the app for smart TVs after being tested last summer.
Last month, Netflix also announced it had started streaming media content with Extended HE-AAC (xHE-AAC) codec on devices that run on Android 9 or later. "With its capability to improve intelligibility in noisy environments, adapt to variable cellular connections, and scale to studio-quality, xHE-AAC will be a sonic delight to members who stream on these devices," Netflix said in a blog post.