A lengthy "leak" was posted in online forums and maintained that a content was removed from the final version of "Cyberpunk 2077" following instructions from a CD Projekt Red official. However, a developer has responded to the reports denying the claims.
'Cyberpunk 2077' developer reacts to DLC rumor
The said leak supposedly contained comments anonymously posted by various "Cyberpunk 2077" developers on another platform. In one of the alleged comments, a certain content was mentioned that became an inside joke among developers after it was "rewritten more than a dozen times."
It was implied that the multiple revisions were done because of the personal preferences of a "top dog" in the company. Despite the said efforts, though, the content ended being cut from the version of "Cyberpunk 2077" that launched last December. However, the same comment claimed that it should be added later as part of DLC in 2021.
Whether or not the cut content refers to the unfinished monorail system in Night City was unclear from the supposed leak. But some fans immediately made that connection. However, when the said leak was brought on to the official CD Projekt Red online forums, a developer with username Vattier chimed in and said, "We usually do not comment on rumours, but this is simply not true."
'Cyberpunk 2077' free DLC still promised to launch in 'early 2021'
CD Projekt Red has had a tumultuous year in 2020 after "Cyberpunk 2077" was delayed three times and its official launch was marred with glitches, especially on last-gen consoles PS4 and Xbox One. It forced Sony and Microsoft to accept full refund requests, and the former even removed the game's digital edition from its official online store.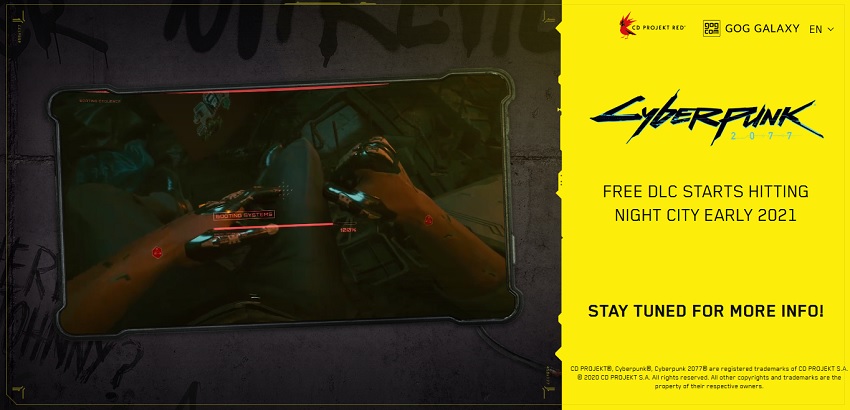 Screenshot from Cyberpunk.net
It appears that some plans for "Cyberpunk 2077" is intact. The game's official page still indicates that its first DLC, which will be released for free, is still headed for an "early 2021" launch. That timeline usually translates to the first quarter of the year, but it would be surprising if the wait stretches throughout the first half of 2021.
CD Projekt Red simply has plenty of things to prioritize to redeem itself. Other than the DLC, the studio promised to release two major patches separately in January and February to address the PS4 and Xbox One issues. The developer has yet to provide on that front as well. It is also still unknown when "Cyberpunk 2077" players should expect the free PS5 and Xbox Series X/S upgrade they were promised.