"Cyberpunk 2077" has been delisted from the PlayStation Store very shortly after its release. However, new hints may have been spotted suggesting the game is returning to Sony's digital storefront soon.
The tumultuous launch of "Cyberpunk 2077" was followed by a barrage of refund requests after the game was released filled with game bugs. The volume of players wanting to get their money back has been speculated as one of the reasons Sony resorted to the drastic measure of completely removing the game's digital copy from the PS Network store.
However, the Twitter page PlayStationSize shared a screenshot on Monday that shows PlayStation owners can now use the Add to Wishlist button for "Cyberpunk 2077." The post suggests it could be a hint at the game's return to the digital store after six months since its official release date. The same source claims, "We can expect the game to return to the PSN store in the coming days."
Upon checking, "Cyberpunk 2077" still does not appear in the search results via PSN's desktop website version. Some fans replying to the post also said that the option to add the game to their wish list was available since the game was removed from the platform, so take this with a grain of salt.
However, this might not be the only clue that the long-awaited return of "Cyberpunk 2077" on the PSN Store is in the works. Fans have also noticed that Sony recently updated the dedicated refunds page for the game with Sony indicating that it will be available only until Friday, June 18. These clues online have resulted in speculations that CD Projekt might also be planning to release another significant update in the coming days or weeks.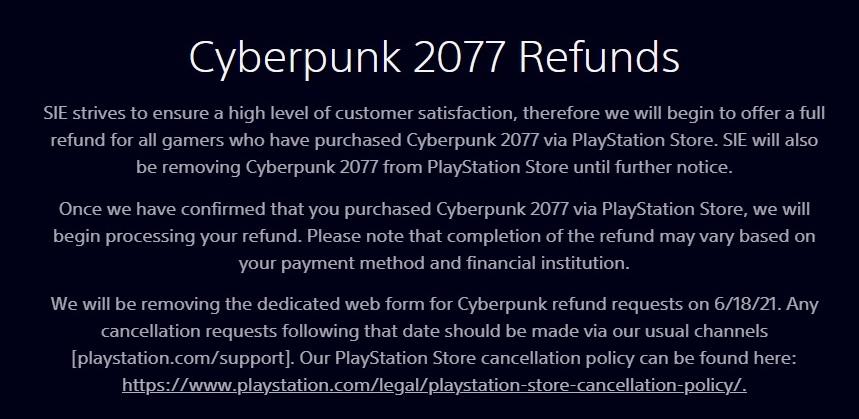 From PlayStation.com
In late May, the "Cyberpunk 2077" studio expressed uncertainty on the timeline of the game's return to the PSN Store. In an interview with VGC, CD Projekt CEO Adam Kiciński confirmed discussions were still ongoing for the RPG's re-listing on the digital store, adding that Sony has the final say on the matter.
Jim Ryan, head of PlayStation, commented about the removal of "Cyberpunk 2077" for the first time during a recently published interview with Axios. Ryan also did not provide specifics on a timeline or what it would take for Sony to bring back the game to the PSN Store. "This was a tough decision for us to make, but ultimately, we had to act in the interests of the PlayStation Community, and not knowingly sell a game that might result in a bad experience for them," Ryan explained.