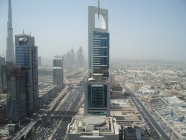 The UAE wants to build a 'rainmaking mountain' – are we all ok with that?
May 09, 2016 12:11 pm UTC| Nature
Eglwyswrw is a real place. This village in Wales is as long on rain as it is short on vowels. Last winter, it rained for 85 days in a row, just missing out on setting the British record. Theres a reason why it is so...