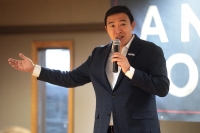 When presidential campaigns end, what happens to the leftover money?
Feb 13, 2020 00:09 am UTC| Insights & Views Politics
Andrew Yang and Michael Bennet have ended their campaigns for president. What happens to the money they have raised, but not yet spent? The amounts could be substantial. Financial reports submitted to the Federal...