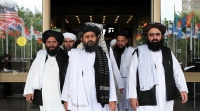 Afghanistan only the latest US war to be driven by deceit and delusion
Aug 22, 2021 01:26 am UTC| Politics
In Afghanistan, American hubris the United States capacity for self-delusion and official lying has struck once again, as it has repeatedly for the last 60 years. This weakness-masquerading-as-strength has repeatedly...
The US will have to accept second-class status in the Middle East
Sep 24, 2018 07:31 am UTC| Insights & Views
You may not have noticed it the chair that wasnt there. The seven-year long Syrian civil war is ending with a government victory, aided by Russia and Iran. Talks to end to the war are accelerating. Who is at the...