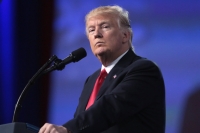 Donald Trump has become the third president in US history to be impeached
Dec 19, 2019 03:49 am UTC| Insights & Views Politics
The US House of Representatives voted today to impeach President Donald Trump, making him the third president in the history of the United States to be impeached. Last week, the House Judiciary Committee approved two...
Two dozen candidates, one big target: in a crowded Democratic field, who can beat Trump?
Jul 03, 2019 21:01 pm UTC| Insights & Views Politics
An unprecedented 24 Democrats are currently running to be their partys 2020 presidential nominee. Why are so many well-qualified, ambitious and smart people in the race? The answer is Trump. The triumphant Democrat will...