Denis Norden: elder statesman of gentle comedy forged in heat of World War II
Sep 25, 2018 09:56 am UTC| Insights & Views Life
Denis Norden, who died recently aged 96, epitomised a peculiarly British brand of comedy that emerged from a specific time and place. For some years after the end of World War II, while many young people were still being...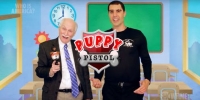 Sacha Baron Cohen: is he wrong to make fools of the unwitting?
Jul 19, 2018 15:12 pm UTC| Insights & Views Entertainment
There is no such thing as bad publicity, as the 19th-century showman and godfather of fake publicity P T Barnum may (or may not) have once said. But some high-ranking politicos caught up in Sacha Baron Cohens new...