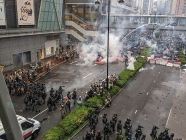 China is becoming increasingly assertive – security law in Hong Kong is just the latest example
Jul 14, 2020 08:34 am UTC| Insights & Views
Chinas enforcement of a new security law in Hong Kong marks the de facto end of the one country, two systems model that came into effect following the British handover in 1997. This has repercussions that go far beyond...
A Korean peace process is underway – but it still depends on the US and China
Apr 29, 2018 14:04 pm UTC| Insights & Views
The meeting between North Koreas Kim Jong-un and South Koreas Moon Jae-in is certainly one of the most dramatic and momentous events in the recent history of East Asia. Beyond the symbolism of cross-border handshakes and...