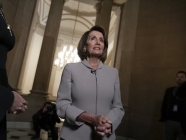 Nancy Pelosi victorious – why the California Democrat was reelected speaker of the House
Jan 04, 2019 16:01 pm UTC| Insights & Views Politics
Despite some brash and not insignificant opposition, Californias Nancy Pelosi is returning to her previous role as speaker of the House. She will preside over a chamber that is 77 percent male and a Democratic Caucus...
Is Nancy Pelosi worth the trouble?
Jun 27, 2017 02:21 am UTC| Insights & Views Politics
Democrats in Congress are struggling to keep up a unified front. As the minority party, Democrats have spent the past six months standing by, mostly powerless, as President Donald Trump has made haphazard progress...