Why China's deals with Saudi Arabia could be the beginning of a profitable new relationship
Nov 08, 2017 15:43 pm UTC| Insights & Views
The Chinese Vice Premier Zhang Gaolis visit to Saudi Arabia in the summer of 2017 was a deal maker. There was agreement on a US$20 billion Sino-Saudi investment fund, along with discussions of nuclear energy projects and...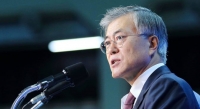 What South Korea's election might mean for the long peace in East Asia
May 09, 2017 15:08 pm UTC| Insights & Views
After an election triggered by its last presidents impeachment, South Korea has a new leader, the Democratic Partys Moon Jae-in. After the scandal that brought down his predecessor, he campaigned largely against corruption...