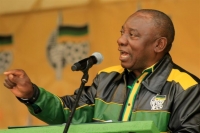 What does Ramaphosa's victory mean for South Africa's economy?
Dec 20, 2017 17:33 pm UTC| Insights & Views Politics
A great deal is expected from Cyril Ramaphosa who was elected as the president of South Africas governing party, the African National Congress (ANC). This positions him to become the countrys president in 2019. Sibonelo...
Ford South Africa reacted badly in a crisis: it doesn't have to be that way
Jan 29, 2017 23:26 pm UTC| Insights & Views Business Economy
In December 2015, Reshall Jimmy burnt to death in his 1.6-litre EcoBoost Ford Kuga in South Africa. Since then a recorded 51 Kugas have caught alight across the country, and two more in Swaziland and Botswana. The Jimmy...