Wearing the poppy has always been a political act – here's why
Nov 08, 2018 16:31 pm UTC| Insights & Views Politics
The annual argument over the politics of the red poppy is well and truly underway. LBC host James OBrien recently declared that supporters of the far-right have no business wearing the national symbol of remembrance,...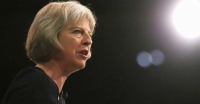 The love is lost: why it's time to drop the romance from the special relationship
Jan 28, 2017 05:10 am UTC| Insights & Views
Theresa Mays visit to the US as the first foreign leader to meet President Donald Trump has prompted much pondering about how the special relationship will fare in a new world order, in which past and precedent have been...