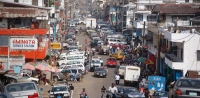 How scientists can help make the sustainable development goals a reality
Aug 29, 2017 14:01 pm UTC| Science
The United Nations set 17 Sustainable Development Goals (SDGs) for countries to reach by 2030. Achieving them requires political will and investment, but also policies that are informed by evidence. This is where academics...
Science must grow young advocates if it wants to connect with the real world
Jan 18, 2017 02:53 am UTC| Science
Science needs more academic hybrids: scientists who buck the stereotype of working in silos. This way of thinking must be broken if the narrative around the reality of sciences role in improving society for future...