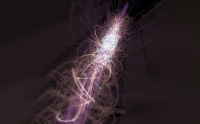 Antimatter: scientists find way to trap elusive material by blasting it with lasers
Apr 23, 2021 11:46 am UTC| Science
Antimatter is believed to play a huge part in the story of our universe. Its the counterpart to matter: identical in every way with protons, neutrons and electrons but with an opposite electric charge. According to our...
New insight into elusive antimatter can help unravel universe's mysteries
Jan 03, 2017 13:48 pm UTC| Science
Physicists have believed that the universe is made of both matter and antimatter since the 1930s. While we are well aware of what the physical matter is, antimatter has remained an elusive substance. But that is about...