Out-of-context photos are a powerful low-tech form of misinformation
Feb 18, 2020 01:24 am UTC| Insights & Views Technology
When you think of visual misinformation, maybe you think of deepfakes videos that appear real but have actually been created using powerful video editing algorithms. The creators edit celebrities into pornographic movies,...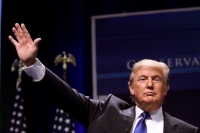 Unbelievable news? Read it again and you might think it's true
Dec 06, 2016 06:41 am UTC| Insights & Views Politics
In the weeks since the U.S. election, concerns have been raised about the prominence and popularity of false news stories spread on platforms such as Facebook. A BuzzFeed analysis found that the top 20 false election...