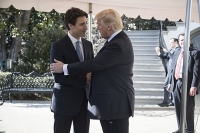 G7 summit: Trump could be using advanced game theory negotiating techniques – or he's hopelessly adrift
Jun 09, 2018 01:27 am UTC| Insights & Views
The latest G7 summit, held June 8 to 9 in Quebec, is one of the most contentious in years. Donald Trump and his counterparts from six other industrialized countries have been at loggerheads over the presidents...
What does 'America first' mean for American economic interests?
Feb 01, 2017 15:59 pm UTC| Insights & Views Economy
In his inauguration speech, Donald Trump used the phrase America first to describe his approach to governance. Trumps speech, of course, was not the first time that we have heard this phrase. Historically, politicians...