Apple made the months-long rumors true last April when it finally unveiled the all-new iPhone SE. It is an entry-level smartphone, so it is significantly more affordable than the premium iPhones, and people can also buy it right now with up to $100 discount from select retailers.
iPhone SE deals: Where to find the biggest discounts
Tech products that have only been in the market for less than two months do not normally get substantial discounts, especially when it is an Apple device. This just makes the ongoing iPhone SE deals more worth it, and luckily tech fans have a few options.
If people want to score as much as a $100 discount, they can go to Boost Mobile to purchase the iPhone SE. All configuration options are currently on sale with the said price reduction, however, the base model with 64GB internal storage and the top-tier variant with 256GB have already sold out.
As of this writing, the middle configuration with 128GB memory is still available for $349.99 -- still cheaper than the original starting price of the iPhone SE. Also, note that only the Black and Product (Red) are the remaining color options in this online store right now.
Best Buy, on the other hand, offers a lesser discount but has a complete stock of all three storage configurations of iPhone SE. People can purchase from the retailer's online store with a $50 discount on all models -- $349.99 for 64GB, $399.99 for 128GB, and $499.99 for 256GB and has the option to buy an unlocked model or buy through a 24- to a 30-month plan offered by network carriers. Best Buy also offers a free four-month Apple Music subscription but will work on new accounts only.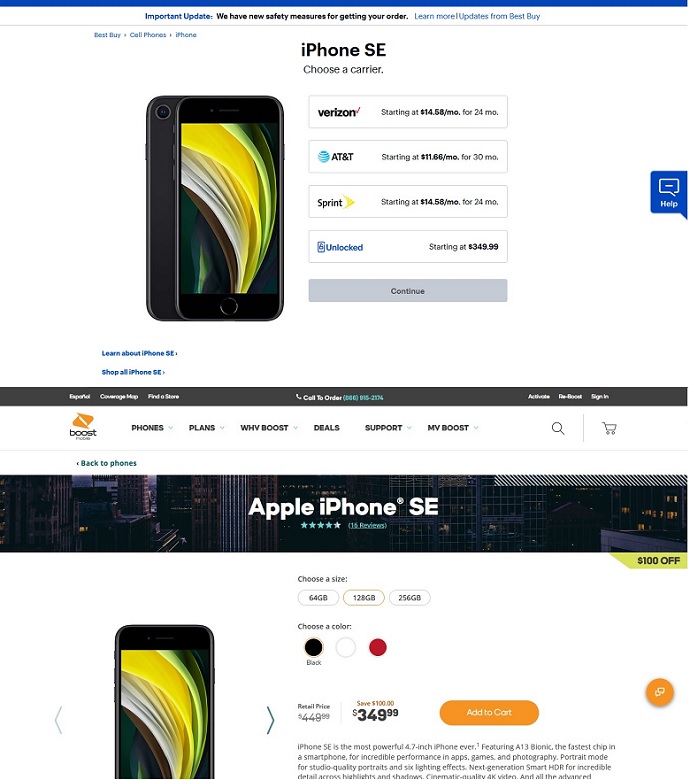 Screenshots from Best Buy and Boost Mobile
iPhone SE specs, features, original price
The ongoing discounts for iPhone SE should convince more Apple fans to get an upgrade, especially those who are still using pre-iPhone X Apple smartphones. They are the obvious target market for Apple's new entry-level offering.
Even the regular starting price of $399 seems reasonable when considering that the new iPhone SE will let people experience a device powered by A13 Bionic, the same processor in the iPhone 11 and iPhone 11 Pro. This has to be one of the best selling points of the device because, in the long run, a later-released Bionic chip could mean it would be supported by new iOS updates in years to come.
iPhone SE takes on the form of the iPhone 8, so expect the same screen size and the return of the physical home button, which houses the Touch ID sensor as well. It sports a single 12MP wide lens camera on the rear and a 7MP FaceTime camera for selfies and to could capture 1080p HD videos. The device's camera also supports the latest advanced camera features including Portrait mode with advanced bokeh and Depth Control and six effects for adjusting Portrait Lighting. iPhone SE also supports cinematic video stabilization both for 720p and 1080p videos, a feature that is not present even on iPhone X.