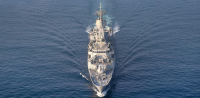 What is a sonar pulse and how can it injure humans under water?
Nov 21, 2023 04:04 am UTC| Insights & Views
Over the weekend, the Australian government revealed that last Tuesday its navy divers had sustained minor injuries, likely due to sonar pulses from a Chinese navy vessel. The divers had been clearing fishing nets from...