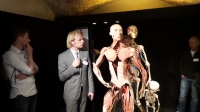 Reconsidering Body Worlds: why do we still flock to exhibits of dead human beings?
Apr 08, 2016 09:51 am UTC| Life
When Dr. Gunther von Hagens started using plastination in the 1970s to preserve human bodies, he likely did not anticipate the wild success of the Body Worlds exhibitions that stem from his creation. Body Worlds has since...