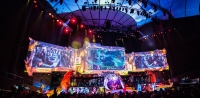 Why tech giants are investing millions in AI that can play video games
Oct 30, 2017 10:03 am UTC| Insights & Views Technology
Artificial intelligence researchers at Elon Musks OpenAI project recently made a big advance by winning a video game. Unlike recent AI victories over top human players in the games of Go and poker, this AI breakthrough...
Google's Go triumph is a milestone for artificial intelligence research
Jan 28, 2016 02:31 am UTC| Technology
Researchers from Google DeepMind have developed the first computer able to defeat a human champion at the board game Go. But why has the online giant invested millions of dollars and some of the finest minds in Artificial...