Eighteen countries showing the way to carbon zero
Feb 26, 2019 14:55 pm UTC| Insights & Views Nature
Eighteen countries from developed economies have had declining carbon dioxide emissions from fossil fuels for at least a decade. While every nation is unique, they share some common themes that can show Australia, and the...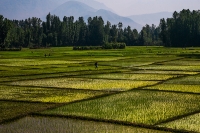 Global food production threatens to overwhelm efforts to combat climate change
Mar 09, 2016 22:01 pm UTC| Insights & Views Nature
Each year our terrestrial biosphere absorbs about a quarter of all the carbon dioxide emissions that humans produce. This a very good thing; it helps to moderate the warming produced by human activities such as burning...