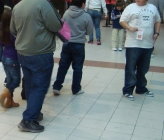 Advertising has the power to make children fat and this needs to stop
May 16, 2016 12:50 pm UTC| Health
More than 60% of UK adults are obese and one in five children start school already overweight rising to around one in three once children hit the ages of 10 and 11. Obese children become obese adults, and the resulting...
Let's stop with the frozen food snobbery
Mar 18, 2016 15:35 pm UTC| Insights & Views Life
Its fair to say that frozen food has a bit of an image problem. One in three Britons believe it is inferior to fresh food, and 43% say that nothing could persuade them to buy more frozen fare. Confidence in the sector was...