US-China ratification of Paris Agreement ramps up the pressure on Australia
Sep 05, 2016 05:49 am UTC| Insights & Views
When President Barack Obama and President Xi Jinping announced their countries ratification of the Paris climate agreement ahead of last weekends G20 meeting in Hangzhou, they boosted its chances of coming into force by...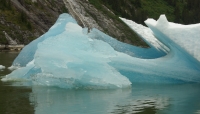 The poster is political: how artists are challenging climate change
May 05, 2016 06:50 am UTC| Insights & Views Nature
We all have a poster we remember. Mine was taped to a bookshop window in the Melbourne suburb of Prahran. A stark black and white image of a boy as young as I was then, about 13, stared out at me. He was naked from the...