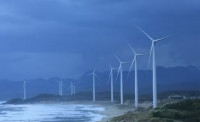 Australia plans to be a big green hydrogen exporter to Asian markets – but they don't need it
Apr 05, 2022 12:03 pm UTC| Economy
In its latest budget, the federal government has promised hundreds of millions of dollars to expand Australias green hydrogen capabilities. Green hydrogen is made by electrolysis of water, powered by solar and wind...
Australia is the runaway global leader in building new renewable energy
Sep 25, 2019 01:13 am UTC| Insights & Views
In Australia, renewable energy is growing at a per capita rate ten times faster than the world average. Between 2018 and 2020, Australia will install more than 16 gigawatts of wind and solar, an average rate of 220 watts...