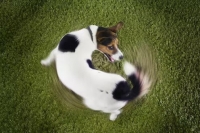 Why do cats and dogs get the zoomies?
Jan 26, 2023 12:04 pm UTC| Life
Does your cat or dog suddenly get a burst of energy and perform athletic feats around the house that would make even a gold medallist jealous? Welcome to the world of zoomies. Zoomies involve intense periods of...
Dec 21, 2017 06:04 am UTC| Health
Most pet owners know chocolate and dogs dont mix. Despite this, chocolate poisoning in dogs remains a problem, particularly at Christmas, as a new study in the journal Vet Record shows. Chocolate and cocoa are products...