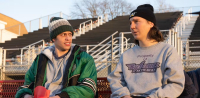 Dumb Money really does show how the little guys won against Wall Street – a 'meme stock mania' expert explains
Sep 23, 2023 00:50 am UTC| Entertainment
Drawing inspiration from the real-life 1,800% spike in the value of GameStop shares in 2021, Dumb Money deftly explains the drivers of meme stock mania when groups of investors on social media herd together to cause...
How Islamic financial markets are a safe haven in conventional market crises
Oct 23, 2017 01:52 am UTC| Insights & Views Economy
Islamic finance is enjoying a surge in popularity, with 14% annual growth in recent years. And the interest in sharia-compliant stocks and bonds is growing across the non-Muslim as well as Muslim world. My recent...