Starbucks fans are steamed: The psychology behind why changes to a rewards program are stirring up anger, even though many will get grande benefits
Jan 26, 2023 11:59 am UTC| Business
Starbucks, the coffee chain giant, is modifying its rewards program, and the news is full of stories of outraged consumers. The main focus of their ire is that, starting Feb. 13, 2023, it will cost twice as many of the...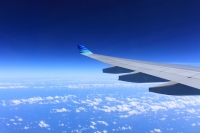 When's the best time to use frequent flyer miles to book flights?
Nov 23, 2022 05:13 am UTC| Economy
Traveling during major holidays like Thanksgiving can be expensive, since so many people want to see their friends and families, wherever they might be. Its especially hard this year with inflation soaring at the...