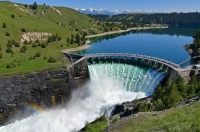 What is hydroelectric energy and how does it work?
Nov 15, 2022 16:41 pm UTC| Business
If youve ever observed a river rushing down a mountain or played in the waves at the beach, youve felt that moving water contains a lot of energy. A river can push you and your kayak downstream, sometimes very quickly, and...