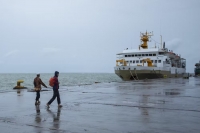 Young port workers in the maritime city of Makassar lack digital skills. Vocational schools can be the solution
Jan 25, 2023 04:43 am UTC| Insights & Views
The city of Makassar in South Sulawesi, Indonesia has seen fast economic growth in the past few years. In 2019, the provinces growth reached 6.9% higher than the 5% national rate with rapid infrastructure development,...
Three reasons why COVID-19 data in Indonesia are unreliable and how to fix them
Aug 06, 2021 10:23 am UTC| Technology
More than a year into the pandemic, Indonesia has the most COVID-19 cases and highest fatality rate in Southeast Asia and still grapples with disorganised COVID-19 data management. The latest media report shows that...