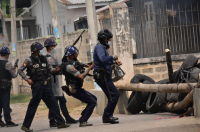 Myanmar's military junta appears to be in terminal decline
Nov 19, 2023 06:00 am UTC| Politics
Myint Swe, the acting president of Mynamars military government, has warned that the country will be split into various parts after his armed forces suffered huge territorial losses to resistance fighters recently. His...
Myanmar: while the world sits on its hands, people fight military junta with violence and silence
Feb 02, 2022 09:25 am UTC| Insights & Views
A year after a military coup, Myanmar remains mired in conflict. The countrys military, the Tatmadaw, has failed to convince most of Myanmars 55 million people of the legitimacy of its rule. Anti-coup resistance continues...