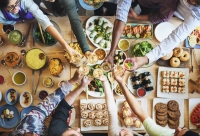 Why eating at work is important – even the odd slice of cake
Jan 24, 2023 05:40 am UTC| Insights & Views
When Englands Food Standards Agency boss Susan Jebb recently compared eating cake at work to passive smoking, office cubicle walls across the land quivered. She told The Times: If nobody brought in cakes into the...
Why giving surplus food to charities is not a solution to food poverty
Feb 01, 2017 16:38 pm UTC| Insights & Views
With ten million tonnes of food going to waste in the UK every year, it is often suggested that leftovers should be distributed to food charities to help tackle food poverty. It sounds like a a win-win solution reduce...