Amazon, Starbucks and the sparking of a new American union movement
Apr 05, 2022 12:00 pm UTC| Business
April 1, 2022, may go down as a pivotal day in the history of American unions. In a result that could reverberate in workplaces across the U.S., the independent Amazon Labor Union first formed in 2020 by Chris Smalls,...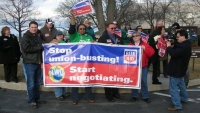 The labor-busting law firms and consultants that keep Google, Amazon and other workplaces union-free
Aug 26, 2020 11:26 am UTC| Law
American companies have been very successful at preventing their workers from organizing into unions in recent decades, one of the reasons unionization in the private sector is at a record low. What you may not realize...