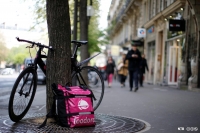 Digital labour platforms subject global South workers to 'algorithmic insecurity'
Jul 18, 2022 07:03 am UTC| Economy
Digital labour platforms are rapidly transforming the world of work. Many governments in the global south have welcomed platforms that bring businesses, workers and consumers together, creating opportunities to reduce...
The Fourth Industrial Revolution: a seductive idea requiring critical engagement
Jun 09, 2022 08:48 am UTC| Insights & Views
Narrative frames are fundamental to unifying ideologies. They frame what is possible and impossible, which ideas can be accepted and which must be rejected. In her book, Digital Democracy, Analogue Politics, storyteller...