China's push for Mandarin education in Mongolia is a tool for political repression
Nov 08, 2020 11:10 am UTC| Politics
In early September, Human Rights Watch reported widespread protests over the expansion of Mandarin Chinese teaching in Inner Mongolias schools. This new bilingual education policy threatens the Mongolian language and...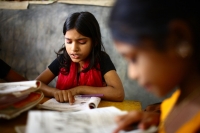 How a child's first language includes more than words
Mar 02, 2020 23:59 pm UTC| Life
This International Mother Language Day (Feb. 21), Canadians celebrated their multilingual heritage by recognizing flexible uses of languages. According to UNESCO, Mother tongue or mother language refers to a childs first...