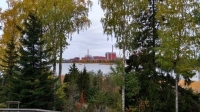 Nuclear waste is piling up – governments need to stop dithering and take action
Sep 28, 2019 14:06 pm UTC| Insights & Views Nature
The UK government has launched a process to find a volunteer community who would be willing to host a 12 billion geological disposal facility for nuclear waste. Its about time the initiative comes after seven decades of...
'Nuclear-powered' missile accident in Russia – what really happened?
Aug 19, 2019 01:21 am UTC| Insights & Views
A missile engine exploded at a naval test range, west of the city of Severodvinsk on Russias northern coast at 9am on August 8. At least five people were killed and several others injured. As it is associated with Russias...