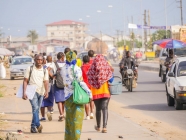 We turned to Twitter to understand conditions on the ground in Cameroon
Oct 09, 2021 08:26 am UTC| Technology
For the past five years there has been conflict in the two English-speaking regions of Cameroon, with no solution or end in sight. There have been political, social and cultural differences and antagonisms for several...
How Twitter has been used in Cameroon's Anglophone crisis
Jun 19, 2019 02:35 am UTC| Insights & Views Technology
Over the past two years conflict has escalated in North West and South West Cameroon. Cameroon is a bilingual country (English and French) and these two regions are the countrys English-speaking areas. The conflict started...