Fed's rate cut signals a recession may be ahead – and it may not have enough ammunition to fight it
Sep 22, 2019 13:54 pm UTC| Insights & Views Central Banks
The Federal Reserve seems a lot more concerned about the state of the economy than its been letting on. The Fed lowered its target interest rate by a quarter point on Sept. 18, the second such cut since July and the...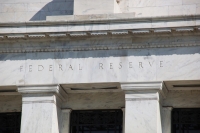 Why Federal Reserve independence matters
Jun 21, 2019 01:42 am UTC| Insights & Views Central Banks Economy
Should you care if the Federal Reserve loses its independence? Its become a growing risk in recent years as President Donald Trump has repeatedly attacked the U.S. central bank over interest rate policy and tried to...