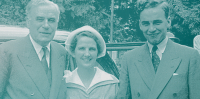 Rupert Murdoch: how a 22-year-old 'zealous Laborite' turned into a tabloid tsar
Jun 01, 2023 11:45 am UTC| Insights & Views
In September 1953, Rupert Murdoch arrived in sleepy Adelaide to take up his inheritance of News Limited. He was only 22 and had little experience of working at a newspaper, let alone running one, but his family had...
The secret history of News Corp: a media empire built on spreading propaganda
May 16, 2019 03:25 am UTC| Insights & Views Business
News Corp must have been startled to find itself becoming one of the major issues in this election campaign. But this is just another sign that, in recent years, the companys ability to read the public mood has gone wildly...