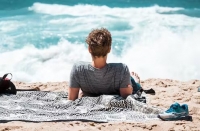 How long does it take for skin to repair after sun exposure?
Jan 25, 2023 04:44 am UTC| Health
Its impossible to avoid the Aussie sun entirely, but Australians are well aware of the dangers of too much exposure. Some 40 years of Slip Slop Slap (and more recently added, Seek and Slide) campaigns have reinforced this,...
4½ myths about sunscreen and why they're wrong
Jan 06, 2020 09:10 am UTC| Health
Many Australians are reluctant to use sunscreen, even though its an important element in preventing the skin cancers that affect about two in three of us at some time in our lives. The Cancer Council says myths about...