Sirin Labs has finally unveiled the final design of its upcoming blockchain smartphone, FINNEY.

The company raised over $157 million in its initial coin offering (ICO) in late 2017. The company has also signed Lionel Messi as its brand ambassador last year. In April 2018, it selected FIH Mobile, a subsidiary of Foxconn, to manufacture the FINNEY smartphone.

Expected to launch in November, FINNEY will run on SIRIN OS, Sirin Labs' proprietary operating system – a Google-certified "fork" of Android.

The smartphone will feature dual screen, with Sirin Labs introducing a "Safe Screen" — a standalone screen that will allow users to verify that FINNEY wallet transactions are being sent to the correct addresses. It will include four main features including an embedded cold storage wallet, a comprehensive and multi-layer cybersecurity suite, a Token Conversion Service (TCS), and a multi-blockchain DApp store.

Product specifications include:
3D Gorilla Glass on both the front and back of the device
Matte back cover 3D glass
High gloss, concave metal frame.
Metallic signature Shield Element accommodating the camera, sensors, and fingerprint scanner
Secured touch "Safe Screen" for the built-in cold storage wallet to protect against malicious attacks
unique sliding design "warms" (activates) the cold storage wallet, which readies it for use when opened
6GB RAM/128 GB storage memory/Qualcomm Snapdragon 845
12MPx Primary Camera/8MPx Selfie Camera
3280 mAh battery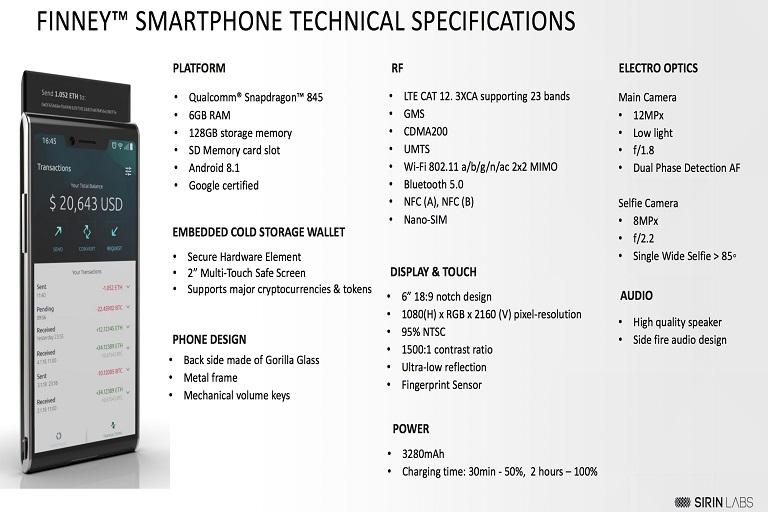 "The secured layers, combined with our revolutionary "Safe Screen" and the ultra-sleek design, enable us to offer our users comprehensive levels of cyber protection. This truly remarkable combination of protection, software, and the design of the phone, cohesively transforms the mobile environment into one that is secure enough for cryptocurrency transactions," Zvika Landau, Co-CEO, Sirin Labs, said.

According to the official website, FINNEY has been priced at $999. The company is offering a 10% discount to those who pre-order the smartphone with SRN tokens.