All hopes for Pixel 4a to be released in spring have obviously gone down the drain by now, but the string of disappointing rumors does not end there. The latest update from a known leaker suggests Google has canceled the release of the supposed new color variant called "Barely Blue" while further delaying the retail launch of the staple "Just Black" model.
Pixel 4a could only have 'Just Black' model following a string of delays
Many tech fans were looking forward to this year's Google I/O, and the anticipated Pixel 4a announcement was one of the major reasons. Unfortunately, Google canceled the event due to COVID-19 and has since been mum about its plans for its next mid-range smartphone.
It was previously reported that Pixel 4a's unveiling has been pushed later into summer with staggered retail launch dates on Aug. 6 for Just Black and on Oct. 1 for Barely Blue. But plans seemed to have changed again quite drastically over the last week. Well-known leaker Jon Prosser updated his previous reports stating that while Google still plans to announce the Pixel 4a on July 13, its arrival in stores has been delayed further.
The more surprising change, however, is the reported cancellation of the Barely Blue model. This suggests that Pixel 4a could be released in just one color scheme, the familiar Just Black, and even that is reportedly delayed by a few weeks to Oct. 22.
As with all other online leaks, fans might want to take this information with a pinch of salt or, at least, be open to more changes until Google makes the official announcement. But it should also be noted that Prosser's tips were proven to be reliable so far, especially when he accurately reported on the unveiling of Apple's new iPhone SE last April.
Pixel 4a specs rumors: Mid-range smartphone comes with wireless charging?
It is clear to avid smartphone fans that the Pixel 4a is going to be a mid-range device. Aside from the popular Pixel-quality camera, people are not expecting to see other premium specs and features for a device that could cost less than $400. This explains why some fans find it a little difficult to believe in a recent rumor claiming that it would be equipped with wireless charging.
The speculation started as ESR Gear launched a Pixel 4a protective case with metal kickstand. In one of the promo images on the product page, the phone case maker advertises it as "wireless charging ready."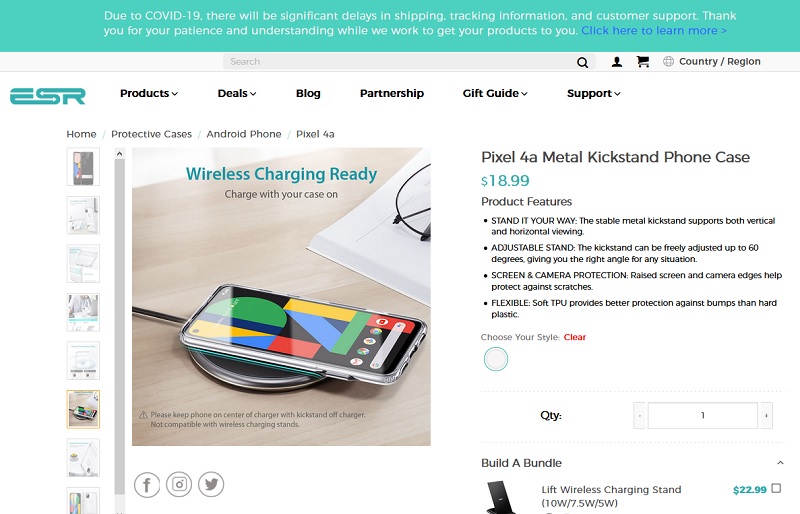 Screenshot from ESRGear.com
This is an interesting selling point for the case itself, however, it does not confirm anything for the Pixel 4a. It may just be ESR Gear's way of assuring potential buyers that the material used in the protective case supports wireless charging, but it does not guarantee that the smartphone will actually have that feature.