John Krasinski, the star of Amazon Prime Video's hit political thriller "Jack Ryan," has faced some backlash recently following his decision to sell his feel-good web series "Some Good News." In addressing the matter, the actor may have also hinted at going back to the production of "Jack Ryan" Season 3 "very soon."
'Jack Ryan' Season 3 production could start 'very soon'
When stay-at-home policies were put in place across the United States, Krasinski launched a show called "Some Good News." The format takes after a news broadcast but only with feel-good reports. It also became widely popular after appearances of famous guests, mostly Krasinski's co-stars from the American version of the sitcom "The Office." As of this writing, its YouTube channel has accumulated more than 73 million views after only launching in late March.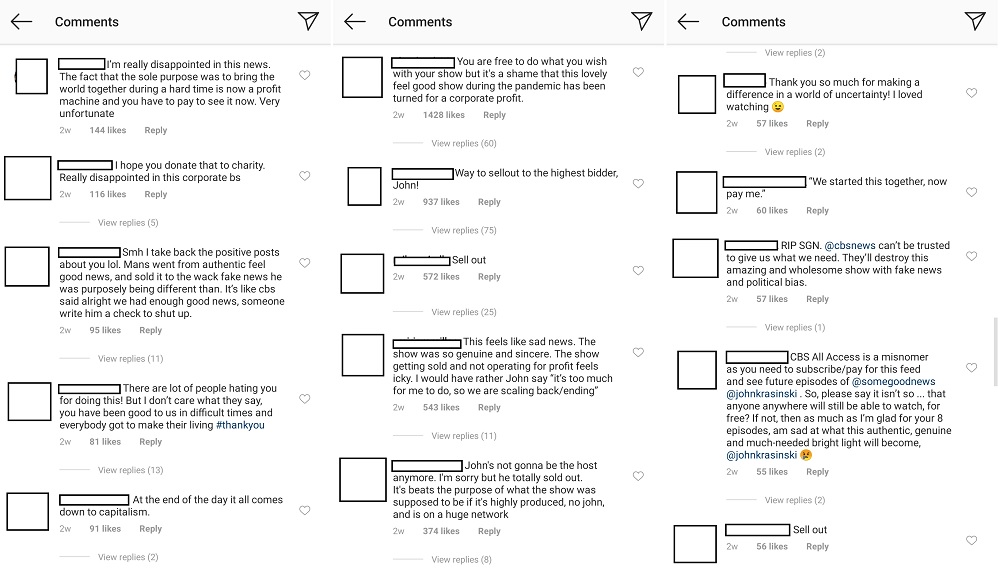 Screenshot of comments from John Krasinski's official Instagram page (@johnkrasinski)
Following the eighth episode of SGN, which also served as sort of a season-ender, Krasinski announced on social media that the show had been sold to CBS. The news, however, was met with mostly critical responses from fans accusing the "Jack Ryan" star of being a "sellout."
In an Instagram Live with another "The Office" co-star, Rainn Wilson, Krasinski addressed fans' concerns about the future of SGN. He confirmed that his original plan was to release just eight episodes while he was also in quarantine because of his other projects. "I have these other things that I'm going to be having to do very soon, like 'Jack Ryan,'" Krasinski said. This very likely means that the work on "Jack Ryan" Season 3 will begin soon.
However, it is unclear if Krasinski was referring to the filming of "Jack Ryan" Season 3. The actor is not just the star of the show as he is also very involved in its production. Earlier this year, it was reported that Krasinski was part of the team working on the scripts of Jack Ryan's next mission.
'Jack Ryan' season 3 possible release date
If the situation permits, considering the different COVID-19 conditions around the world, the filming of "Jack Ryan" season 3 could start this year. But the production of season 1 and 2 took more than a year to be completed, and this only means that the new episodes are impossible to be released this year.
The best case fans can anticipate is for "Jack Ryan" season 3 to premiere within 2021. The good thing is Prime Video has so much faith in the show that its third installment was ordered since February 2019.